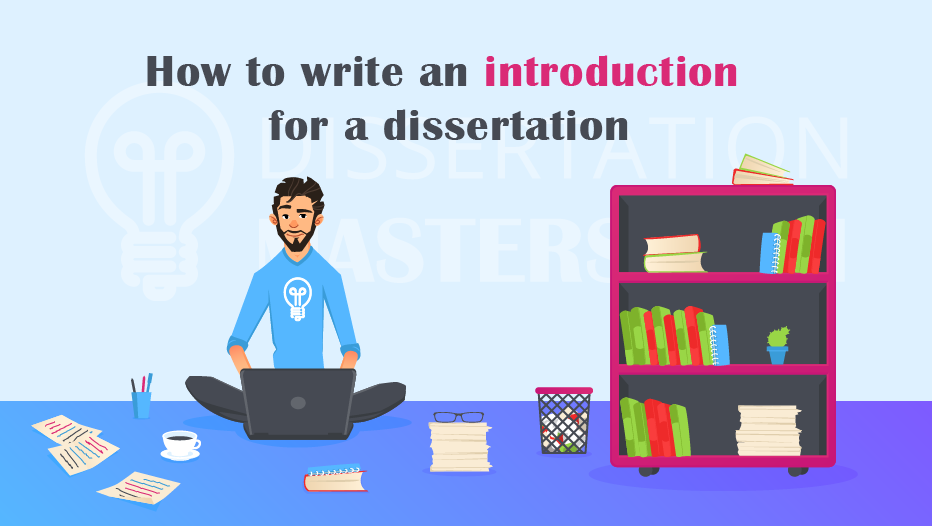 The first section of a dissertation is called an introduction. It sets the tone for the entire dissertation. In this chapter, you need to present the topic of your dissertation, create a thesis statement, and highlight the basic aspects of your dissertation.
The Main Functions of a Dissertation Introduction:
Present the topic. What is the purpose of your academic work and what is its subject?
Attract readers' attention. Cite impressive examples relating to real life or current events to interest readers in your topic.
Show the pertinence of your research. Persuade readers that your paper has great practical and theoretical significance.
Components of an Introduction
A coherent introduction usually includes the following items:
Reasons
Range
Applicability of your study
State of things in a particular academic area
Purpose of your work and a thesis statement
Short overview of research methods
Outline of your dissertation
Reasons
What are the reasons for conducting your study? Here, you need to identify the very problem. It can be the issue which you consider appealing, current events, etc. Give a fascinating example of the subject you are analyzing to interest readers in your introduction.
Range
In this part, you need to introduce the topic of your dissertation. Ensure your topic is specific.
Applicability of Your Study
Put forward reasoned arguments to show that your study is useful for certain research areas. Here, you may give quotations from the academic sources relating to your subject. In this section, you should also indicate the scholarly projects you are going to use when creating your paper.
The next step is to explain how the results of your research can be used in practice. If you cannot properly formulate your ideas, ask your friends about their opinion on the matter. They may have a different viewpoint on the issue what will help you identify the applicability of your study.
It is much harder to define the applicability of the study when producing a dissertation for an organization. At the same time, it is easier to demonstrate the advantages the company may gain by referring to your research. To facilitate the process, try not to think about the organization as a unit where you are doing internship. Try to define the points that can be beneficial for the entire industry.
State of Things in a Particular Academic Area
In this part of your introduction, you should indicate and briefly describe fundamental scholarly articles relating to your subject. In this way, you will show readers that you have fully examined your topic.
Purpose of Your Work and a Thesis Statement
Here, you need to represent the purpose of your paper and a thesis statement. Note that the purpose of your work and a thesis statement are two different things. In order to fully develop a thesis, it is necessary to answer either the posed research question or a hypothesis (if it is formulated instead of the research question).
Keep in mind that a hypothesis is based on a theoretical framework. In order to properly form it, it is required to create a literature review first, and then the very theoretical framework.
Short Overview of Research Methods
In the body of your piece of writing, you need to make a detailed description of the way you are researching the subject. Nonetheless, in the introduction, you should concisely summarize the research techniques and methods you are going to employ to explore your topic. Do not forget to indicate the participants of your research.
Outline of Your Dissertation
The aim of this part is to provide information about the way your dissertation is arranged. Here, you are to highlight the main points of each chapter. Ensure that the outline of your dissertation is written clearly.
Start Creating a Research Proposal
When writing the introduction to a dissertation, you should begin with producing a research proposal. The latter serves as a strategic plan for an introduction presenting data about its parts.
Everyone knows that an introduction is the opening section of a dissertation. Still, it is not a must to write it in the first turn. You may create your work first and then begin writing an introductory section. Thus, it will be easier for you to construct it in the right way underlying the key aspects of your paper. Once the opening section is completed, you should edit it to make sure it is free from any mistakes and inconsistencies.
Verb Tenses to Use in the Introductory Section
Use the present simple tense when introducing the topic of your paper. The basic data about the explored subject should be written either in the past simple or present perfect tense.
Introduction Word Count
There are no strict rules concerning the number of words the introduction should include. It means that you are not obliged to provide information about all its structural elements on one page. Still, you need to present the material clearly. Avoid repetitions. Impart only important facts about the chosen topic.
Key Tips on How to Write Dissertation Introduction (Check Yourself):
How Can We Help?
Since introduction chapter writing plays a decisive role in the evaluation of the whole dissertation, should not we take this matter as seriously as possible? Moreover, how many students find the time and skills to cope with introduction chapter writing? When analyzing these two critical questions, we invariably come to the conclusion that professional assistance is an essential condition for achieving the desired result. At Dissertationmasters.com, we have got the solution to your problems.
We are among the top writing services providers when it comes to dissertations. We can provide you with the most effective, informative, concise and convincing dissertation introduction chapter which will help you achieve success. The quality of our services meets the highest academic standards and will exceed all your expectations!
At Dissertationmasters.com, the team of highly experienced and competent writers has devoted themselves to providing professional assistance to those who need it. We hire highly qualified professionals with PhD credentials who also possess rich academic writing experience. They deliver the academic papers of excellent quality. All the work is 100% original and plagiarism-free. Delivery schedules are strictly met.
We have been providing our writing services to students for years. Thus, we know what is needed to make a customer satisfied.
If you hesitate to use online writing services to get professional writing assistance, you should know that by collaborating with our company, you let us share our experience and knowledge with you. This is not cheating. This is a way to broaden your knowledge and skills!
At Dissertationmasters.com, we are available 24/7 to meet students' needs. We are always ready to help you with introduction chapter writing. Please feel free to contact us anytime. Your satisfaction is guaranteed.
Click on the button below and fill in the order form.