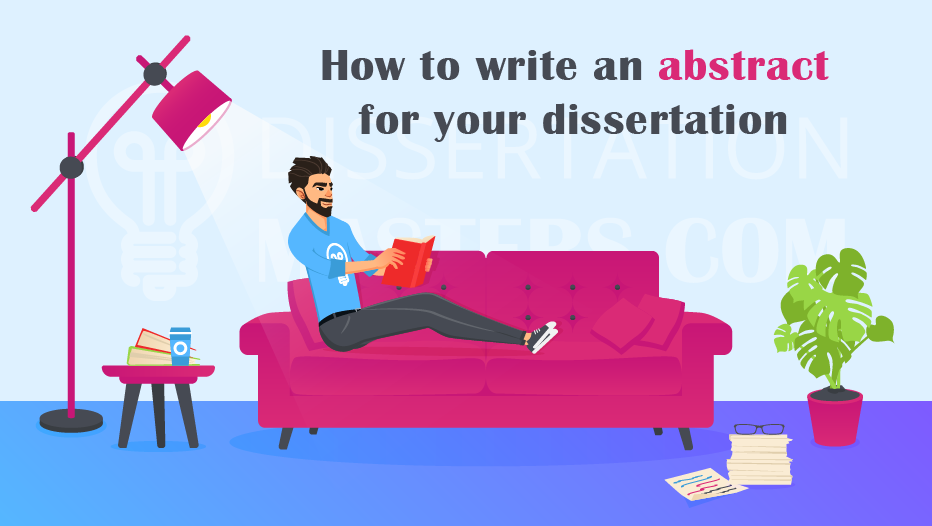 An abstract of a dissertation performs several functions. It:
Clearly explains a dissertation title.

First, an abstract helps readers comprehend what a dissertation is about by deciphering its title. By reading an abstract, readers can understand whether a dissertation is appealing and whether it is worth spending time reading it. It should be stated that a properly written and well-organized abstract can easily persuade readers of the significance of your dissertation and encourage them to read it. By the way, if you do not have a clue about how to write an abstract for a dissertation well, feel free to ask our qualified specialists for handy writing tips!

Presents a shortened version of a dissertation

Second, an abstract outlines the key points of a dissertation so that those who lack time to read the whole piece of writing can understand what it is focused on. Quite often, scholars, researchers, scientists, etc. read only an abstract of a dissertation to get its main idea.

Makes a synopsis of a dissertation

Third, an abstract provides a brief summary of a dissertation. By scrutinizing it, it will be easier for readers to look into the content of your dissertation. It is known that a dissertation is a complicated piece of writing that usually explores some complex issues. Therefore, an abstract will facilitate the process of understanding the perplexing material presented in your dissertation.
Peculiarities of Writing an Abstract
A lot of students do not know how to write dissertation abstract appropriately. The most important thing one should keep in mind is that an abstract is written in accordance with the rule of thumb. According to it, the length of an abstract should not exceed more than 5% of the total word count of your dissertation. In other words, it should not be more than a page in length. One may ask, "Why follow this rule when creating an abstract?" The point is that one should be able to look through an abstract quickly and understand the fundamental points of a dissertation.
Remember that an abstract has to be placed right after the preface and before the table of contents. Additionally, it is worth emphasizing that an abstract has to be written either in the present simple or the present perfect tense.
Below, you will find good abstract examples for dissertation written in the present simple tense and the present perfect tense.
Example of an abstract produced in the present simple tense:
According to the survey, most of the interviewees favor attending concerts rather than watching them on TV.
Example of a dissertation abstract produced in the present perfect tense:
The survey has indicated that most of the interviewees favor attending concerts rather than watching them on TV.
What Information should an Abstract Provide?
In order to fully understand how to write the abstract of a thesis, you should respond to the questions given below.
What issue does your dissertation address? Here, you need to present the purpose of your academic work, a thesis statement, and the posed research questions. In case you have created a hypothesis of a dissertation, you should mention it in this section as well.
How has the subject been examined? When answering this question, it is required to clearly state what techniques you have used in the course of research and briefly describe their peculiarities.
What has your research revealed? Present the research results and succinctly summarize the conclusion you have arrived at.
What is the meaning of the obtained research results? Illustrate the fundamental aspects of the discussion section and provide your suggestions.
Using the Acronyms in the Abstract
As it has been mentioned, an abstract should give readers a detailed insight into the dissertation so that they do not need to read the entire writing project. For this reason, it is necessary to use acronyms where necessary.
Referencing Sources
When producing a dissertation, you have to make proper references to the sources you are using throughout your text. Nevertheless, there is no need to make any references when creating an abstract, as you are describing your own research process and presenting the results which you have obtained.
Checklist: What Is a Dissertation Abstract and What Are Its Peculiarities?
We have created a PhD abstract template that includes all of the items of the above checklist.
A few non-profit institutions make efforts to counteract the negative effect the climate changes exert on environment.
In order to operate in the market, these organizations need financial donations. Nonetheless, at present, only a small number of people are ready to give financial support to the organizations focused on protecting environment which causes the so-called gap. Taking the aforementioned information into account, it can be stated that such organizations can continue undertaking their activities in case the number of donations grow.
The purpose of the research is to identify the ways of increasing the number of people desiring to give financial support to the organizations taking care of environment. In order to achieve it, the research question should be formed in the following way: "How the social distance between the victims of climate changes and the prospective donors influence the decision of the latter about whether to make financial donations or not?"
According to the above-mentioned data, it can be said that the social distance is the very factor that makes people feel themselves a part of a specific social group in regard to the victims of the climate changes.
In order to answer the posed research question, it is necessary to do some tests that include sharing an online inquiry among the interviewees. The interviewees should be divided into groups according to two conditions i.e. large and small social distance. Then, you should ask them to give feedback on diverse images of the fundraising campaign. From the received answers, it can be understood that unlike a small social distance a large one results in a greater desire to donate money. These answers prove that social distance impacts the donors' intentions.
According to it, the environmental organizations are advised to highlight the importance of a social distance in the fundraising campaigns. The aim of carrying out further studies is to determine additional items that would help such organizations attract more donors.
Dissertation Abstract Writing Help
As a matter of fact, everything that concerns a dissertation or thesis is of great importance and needs to be dealt with carefully. Abstract writing is not an exception, since it represents the main idea of the entire dissertation. By reading an abstract, readers decide whether it is worth reading the whole dissertation or not. If you have taken pains to write a dissertation properly but failed to produce a strong abstract, the chances that it (abstract) may have a negative effect on the whole project will arise. It is necessary to emphasize that a dissertation abstract is read first, and in the majority of cases, professors decide on the grade at this very stage. Therefore, you have to be very careful with dissertation abstract writing. Despite its decisive role, several students mess up abstract writing for one reason or another. The consequences are obvious. That is why some students decide to use a professional writing service to have their abstract written, and, of course, get the desired results.
When the question of choosing a reliable writing company arises, access Dissertationmasters.com. We offer excellent dissertation and thesis writing services. Being aware of the significance of a dissertation, we never take any risks and hire only highly qualified writing staff with Master's and PhD degrees. We also ensure that they have the professional background necessary for creating academic papers meeting high standards. We work globally and meet the needs of the students from different academic fields.
Many students avail themselves of our abstract writing services and the results they get are encouraging. We also feel very pleased and proud when we receive their appreciative comments. We are happy that we have not failed in our endeavor to offer top-quality services which contribute to the success of our customers.
When dealing with thesis or dissertation writing, we assign an appropriate writer to the customer's order, i.e. the one holding a PhD degree. Your work will be unique and free from plagiarism. The papers we deliver certainly meet key requirements of any academic institution. Our customer support team is available 24/7 to serve students and solve any order-related problems. If you order your abstract writing or any other work at Dissertationmasters.com, your satisfaction is guaranteed.
Click on the button below and fill in the order form.