External Assessment of Domino's Pizza and How Each Force Impacts Domino's Pizza Operations
The US quick service restaurant (QSR) pizza sector of the fast food industry is not only large (third largest), but also fragmented. The QSR industry contains a number of segments, such as pizza/pasta, burger, sandwich, chicken, Mexican, Asian and seafood. Moreover, from 2005 to 2015, the United States QSR pizza sector grew from $31.5 to $33.8 billion (Domino's Pizza, 2016). The pizza industry includes such services as delivery, carryout and dine-in. In the US market, Domino's Pizza competes in the carryout and delivery segments of the pizza category within the QSR industry. The top pizza/pasta brands in the United States include Pizza Hut, Domino's Pizza, little Caesars, Papa Johns and Papa Murphy's in that order. Furthermore, Domino's Pizza occupies a 12th place in the top 50 QSR rank (QRS Magazine, 2015). However, according to a recent consumer survey, which involved over 10,000 consumers, conducted by Market Force showed that Domino's Pizza is one of major brands within the United States' favorite QSR chains in the pizza segment (Market Force Information, 2016). In the same survey, Pizza Ranch was marked as a successor in providing high quality service, whereas little Caesar was considered to have the highest value.
PEST framework is used to assess the QSR industry more precisely, by exploring various aspects, including legal environment, technology, political climate, economic status and social environment (Capon, 2008). In regards to the political and legal environment in the United States, Domino's enjoys a peaceful setting and more or less stable economic situation. Currently, the similar situation is experienced in most of its international markets. As for the sociocultural environment, Domino's must respond to any sociocultural changes in the United States and other markets. For example, a growing healthy lifestyle trend can be a threat if some of the Domino's product are perceived to be having negative health effects (Domino's Pizza, 2016). However, Domino's can translate health-based critics to an opportunity to improve the healthiness of its offering. Increasing cultural makes the social environment suitable for business. The United States technological environment is highly advanced not only due to the country's level of economic development, but also since this country is home to some of the leading technology companies including Oracle, Apple and Microsoft among others. Domino's also engages in the implementation of various technologies. In 2015, over 50% of its sales in the United States were done through digital means (Domino's Pizza, 2016). The trend is similar in the global market, where approximately 45% of its sales have involved digital platforms. In fact, the company appears on 15 digital platforms, ranging from TVs to smart watches pizza ordering. Due to the implementation of various technologies, Domino's customers can order pizza's from any location.
Evaluation of Domino's Pizza Five-Forces Model and the Impact of Each Force on the Company
Having analysed the impact of external forces on Domino's Pizza, the next key step involves a detailed analysis of the fast food industry, which has constituted Domino's relationships with its customers, suppliers and competitors. Porter's Five Forces framework is a model used to analyse the competitiveness within an industry by focusing on five factors, including the threat of new entrants, the bargaining power of customers, the bargaining power of suppliers, rivalry among established firms, and the threat of substitutes (Porter, 1998). Figure 2 is a depiction of Porters Five Forces frameworks discussed below.
According to the Porter's Five Forces model, the degree of competition among rivals within the industry is the most influential forces, because entities selling similar products and offering same services are compelled to compete for bigger market share. Since the competitive structure of the fast food industry is modeled by the interplay of the highlighted forces, the degree of rivalry varies from economy to economy. To sustain competitive and strategic advantages over rivals, established brands such as Pizza Hut, Papa John's, Marco's Pizza and Papa Murphy's and others compete through product differentiation and pricing strategies. Internationally, Domino's competes with Papa John's, Pizza Hut and local pizzerias (Domino's Pizza, 2016). Given that fast food retailers are mutually dependent, the competitive strategies undertaken or actions implemented by one company are likely to have a direct impact on all other businesses that operate in the same market, leading to competitive retaliation. Further, Domino's and its competitors can be affected by changes that occur in demographic trends, economic conditions, consumer tastes and disposable income of potential customers. Besides while competing for customers, the company also competes for employees, qualified franchisers and suitable locations. Being a highly competitive and capital-intensive industry, the threat of new entrant is moderate. However, the threat of substitutes is high because competitors in the pizza/pasta segment of the QSR industry are capable of introducing new menu items and simultaneously compete on the price basis (Arnórsson, 2013). The suppliers bargaining power is low, because they have less control of the production process, as Domino's Pizza first buys most of its ingredients and other key supplies, and then stocks them to ensure smooth production process despite any market dynamics. Similarly, preparing dough in-house also limits disruptions in the market. Further many competitive suppliers in the industry is an advantage to Domino's as it can easily bargain for low prices and high quality. The power of customers is low because every customer contributes a small portion of sales. The bargaining power of customer is also low because QSRs, including Domino's are in high demand, particularly in offices, residential areas, shopping malls and colleges.
The Mission and Vision of Domino's Pizza
Domino's mission and vision reflects its ideals, including inspiring solutions, embracing community, hard work and offering opportunity. When striving to be the number one company offering pizza products globally, the company has to rely on hard work, innovativeness and honesty. Such values as uncommon honesty and inspired solution were the driving forces behind the company's brand relaunch. In response to harsh criticism regarding the taste of pizza, Domino has expanded the menu with an innovative recipe. The company's marketing strategy was also in line with honesty ideal.
Company's Competitive Advantages
Strong Brand Equity
Founded in 1960, the company is recognized as one of the global leaders in pizza delivery (Domino's, 2016). Domino's operates a network of both franchised stores and company-owned stores globally. The company generally competes in the pasta/pizza category of the QSR industry based on their service, technology, image, price, location and image. As of 2015, Domino's had over 12,530 stores globally and operated in over 80 countries. This global presence not only serves as its strategic advantage, but also a competitive advantages in regards to location and market share. Its main strategic advantage is strong brand equity. Domino's is the second largest company in the pizza segment of the QSR industry in the world (QRS Magazine, 2015). Furthermore, the company believes that its brand is among the most recognized consumer brands around the world. Domino's is recognized as global leader in the delivery of pizza and has significant market share in pizza carryout business. For these reasons, Domino's customers associate the brand with well-timed delivery of affordable and quality food.
For five years, Domino's U.S. company-owned stores and franchise invested approximately $1.5 billion in cooperative, local and national advertising. In addition, its international franchisees also invested huge amount in various product promotion and advertising efforts within their countries. As pointed by Domino's Pizza (2016), the company continues to support itself with aggressive advertising through numerous media channels. Furthermore, the company has strengthened its brand by creating market affiliations with leading global brands like Coca-Cola. In the United States, the company owns a market share of 28%, which is based in the reported consumer spending (Domino's Pizza, 2016). In line with these aspects, Domino's economies of scale and market share allows the company to leverage its supply chain strength, purchasing power and marketing investments. Consequentially, Domino's is able to serve the ever-changing customers' demands with timely delivery and convenience.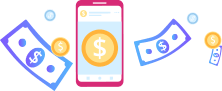 Exclusive savings! Save 25% on your ORDER
Get 15% OFF your FIRST ORDER (code: masters15) + 10% OFF every order by receiving 300 words/page instead of 275 words/page
Strong Business Model
Domino's business model constitutes international and domestic franchise fees and royalties, as well as revenues from retail sales at the stores owned by Domino's Pizza. Revenue also flows from the supply chain operations. This model has been reviewed and refined over the past 50 years and it is supported by strong store level (decentralized) economics. This store level economics is proven a strategic advantage as it provides the company with an entrepreneurial incentive for franchises. In turn, the franchise system generates a reliable stream of cash flow through supply chain revenues and royalty payments. Furthermore, Domino's has created a cost-efficient store design, marked by a carryout- and delivery-oriented scheme, with minimal capital requirements, but with affordable and high quality menu items. The combination of string sales volume and cost-efficient store model has enabled the company to benefits from strong store level (franchise-level) financial returns. This feature also makes Domino's Pizza an attractive business for possible and existing franchisees globally. Furthermore, Domino's strong store economics has also resulted into a strong and diversified franchise network. In summary, their business model or effective franchise system gave the company an opportunity to profit from a consistent flow of cash and to reinvest in the Domino's brand, technology, stores and pay desirable dividends.
Product and Technological Innovation
In the current competitive QSR industry, innovativeness and the adoption of emerging technologies is propelled by the need to grow in terms of revenues and market share, as well as by the growing pressure on businesses to ensure that their operations have a positive impact on the societies and environments, in which they operate. For example, McDonalds in the QSR industry and other leading global brands in R&D and innovation, such as Google and Apple have gained and sustained competitive advantages by committing significant resources in product and technological innovation (Hill, Brandeau, Truelove, & Lineback, 2014; PwC, 2012). Therefore, after realizing possible benefits, companies in the QSR industry decided to facilitate innovativeness within their companies by inspiring effective teamwork, collaboration, leadership and adequate funding. In 2009, Domino's Pizza reintroduced its core pizza with a new recipe. This decision was crucial to the company's increased sales, consumer traffic and continued increase in customer reorder rate. The company points that it product innovation in past five decades was focused on new product developments, including Specialty Chicken, Parmesan Breast, Marbled Cookie Brownies and Handmade Pan Pizza among others (Domino's Pizza, 2016). Product innovativeness is also present across franchisees where owners employ the localization strategy to ensure that their product offerings or menu suits the taste and culture of the local market (Baroto, Abdullah, & Wan, 2012). For example, Domino's offers Saumoneta in France and Mayo Jaga in Japan.
Similarly as to other leading global brands, technological innovation is pivotal to the brand and its long-term economic sustainability. The adoption of digital ordering technology is crucial to technological innovation. In 2015, roughly 50% of the company's sales in the United States were achieved via 15 digital platforms (Domino's Pizza, 2016). According the company, this index was much higher in some of its foreign markets. Additionally, the company considers itself as one of the largest e-commerce retailers in the world in terms of annual transactions over the Internet. In fact, after launching digital ordering system in 2008, the company strategically decided to develop its unique online ordering system in 2010, thereby enabling it to grow rapidly in number of sales. Within the ensuing five years, it adopted mobile apps that cover over 95% of the handheld devices market in the United States. Following their launch of the "30 second ordering system," Domino's customers are able to reorder their favorite product within the shortest time possible.

STEP 4
Download Your Paper

STEP 3
Communicate with the Writer
Effective Supply Chain System and Internal Dough Manufacturing
Besides generating significant earnings and revenues in North America, the company's vertically integrated supply chain and dough manufacturing enhance the consistency and quality. These competitive advantages also enhance the company's relationships with all franchisees. Similarly, the company leverages its economies of scale to offer affordable storage space and facilities. The effective supply chain system allows inventory managers to focus on customer service and store operations (Akindipe, 2014), because they are relieved of the responsibility to source ingredients and process dough within their stores. Furthermore, the introduction of the voice ordering mobile app, "Dom," makes the company a leader in innovation efforts within the QSR industry. Most recently, the launch of Domino's loyalty program, known as "Piece of the Pie Rewards", improves customer satisfaction as it rewards regular customers. Generally, the improved accessibility and functionality of the ordering and payment system, Domino's PULSE, provides the company with competitive advantages over existing technological concepts in the QSR industry. For this reason, Domino's intends to invest more resources in the enhancement of its technological capabilities and digital marketing.
Question 5: Empirical Indicator for Domino's Pizza
Domino's standouts as the most competitive entity regarding pizza delivery service. This advantage is sustained by the fact that it has pioneered the pizza delivery business (Domino's Pizza, 2016). Furthermore, the efficiency of pizza delivery is supported by the company's technological innovations and implementation of industry technologies aimed at increasing the speed of ordering and delivery. Domino's business model is open, since the company handcrafts and serves high-quality food at highly competitive price. In addition, the company has an easy ordering system improved by its technological innovations. The other unique feature of the company is that its dough is made in-house and delivered to its stores and to its franchisees around the world. According to Domino's (2016), they hire only exceptional human resources who aim to deliver the best pizza in the world. Globally, the franchise is devoted to a single-minded goal of providing tasty pizza delivered directly to the customer's location. Domino's considers itself as a "work-in-progress brand," thus continues to sustain the company's strategic position as a relevant global brand that improves every year.
Domino's business model has the capability to yield strong returns for company-owned stores and franchise owners. Additionally, the business model ensures reasonable cash inflow in the company through a revenues coming from dependable supply chain and royalty payment system with reasonable capital expenses. The brand obtains profits and revenues by charging its franchisees with competitive royalties (Domino's Pizza, 2016). Besides royalties, earning and revenues are generated through the sale of food, supplies and equipment for franchisees, as well as through the operations of numerous company-owned restaurants. Franchises profit from selling pizza and other complimentary products to local customers. Despite being recognized as a global brand, Domino's focuses on serving local neighborhoods, in which it operates, through its large network of company-owned stores and franchise owners. On average, the company sells over 1.5 million pizzas daily across its global network (Domino's Pizza, 2016). Such large sales evidence that the company is doing well within the pizza/pasta segment of the QSR industry. Further, Domino's offers a menu designed to not only present quality and attractive meals to various customers, but also it is simplified to minimize ordering errors induced by the complexity of a menu. The menu design also aims to expedite order-processing and food preparation. Domino's fundamental menu entails pizza products of various sizes and types. Besides pizza, the company diversifies in product offering boneless chicken, bread side items, Coca-Cola and deserts. Toppings vary by culture and market, for example, spicy cheese in India and squid-based toppings in Japan. Domino's is an apt example of a company that applies a hybrid strategy of globalization and localization, which is meant to sustain competitiveness at the global level (Volberda et al., 2011).

VIP services
Order prepared by top 10 writers
$10.95
$3.66
Order proofread by editor
$5.99
Get a full PDF plagiarism report
Since its founding, Domino's has continued to focus on the delivery of pizza, as well as the carryout subsection of the pizza/pasta category. To acknowledge the significance of concentrating on few lines of product delivery, Domino's introduced the company's carryout-friendly Pizza Theater store design (Domino's Pizza, 2016). The company planned to redesign all its stores to have the same look to not only improve brand awareness and service delivery but also to maintain consistency across its network. According to Domino's Pizza (2016), its brand improved in 2015 due to its global store reimage program, marked with beautified stores emerging all over the world. The company noted that it was 50% through its goal of substantial completion to transformation scheduled by the end of 2017. In concluding, Domino's competitive advantage also emanates from the fact that it invests in research and development. By conducting research and development at its World Resource Center, the company tests new and high quality products with the ultimate goal to add it to its menu. R&D is a strategic advantage to the company and its franchisees.